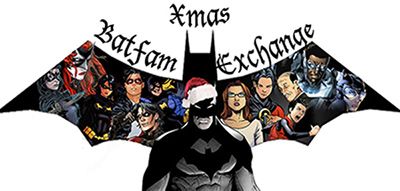 It's almost time for the Batfam Christmas fic and fanwork exchange! We're opening sign-ups a bit earlier this year so that hopefully we will have more participants and more time for writing and creating artwork!
Tentative 2013 schedule
Sign-ups open - October 1st
Sign-ups close - October 18th
Assignments sent out - October 21st
Assignments due - December 8th
Posting begins - December 12th
You can follow the exchange at
batfam_exchange
. We have also created a tumblr page for people who would rather follow the exchange on tumblr. It's at
http://batfamexchange.tumblr.com/
Looking forward to some more lovely batfam fics and artwork!